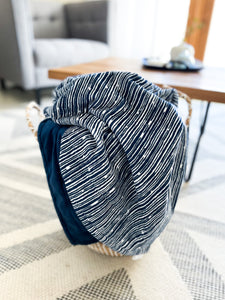 Everyone deserves a little extra comfort and softness in their lives. We designed our Minky blanket with busy adults in mind. We hope it will help you sit back, relax, and cherish the small joys in life.
LUXURIOUSLY SOFT - Escape into the plush comfort of our Minky fabric. Its double-sided coziness will help you unwind and relax after a long day.
HIGH-QUALITY- Our premium Minky fabric won't pill or fade. Each blanket is supremely stitched so that it won't lose its shape even with daily use and regular laundering.
EASY CARE - Our blankets are conveniently freshened up in your washing machine so you can get back to relaxing without any hassle.
VERSATILE USE - The 5X6' size works wonderfully as a go-to throw in your living room or a stylish solution for extra warmth on your bed. Its weight is just right for year-round use.
HANDMADE WITH LOVE - Each Baby Want Designs Minky blanket is handmade with love from our family to yours.
Adult Size Blanket: Approximately 5x6 feet
Minky Fabric: 100% Polyester - Shannon Cuddle Minky Fabrics
1-3 day USPS Priority Shipping
LOVE!!
I Love all my blankets from Baby want design. I've bought tons of them for baby shower gifts to now for me. Lol my grandson is 22 months old and goes nowhere without his blankets.
Soft and heavy
Love the material and the weight it has to it. Great quality
Best blanket ever
Since I got this blanket it's go to blanket, I love it. So snuggly and soft and it's not heavy at all.
Amazing blanket
I am in love with this blanket. The quality and texture are both amazing! I have a lot of health issues and will be bringing this blanket with me to the hospital.
Beautiful blanket and workmanship
I purchased this blanket as a Mother's Day gift, so I haven't actually used it myself. But Amber always outdoes herself on these blankets. I have previously purchased 2 baby blankets as gifts, and they are the softest, cuddliest blankets. I'm sure my mother will think so too.
Extremely quick shipping, too. Only took 2 days to receive the blanked after I ordered!
Thank you, Amber!
Beautiful Blankets
I was just surfing through the web when I saw this website, liking the minky blanket that I already have but not wanting to pay the price I did I thought I'd look for one from here...and boy I am SO HAPPY I did!!! I love my Baby Want Designs Minky Blanket!!
I got it in 2 days! 1 day being a Sunday...and when I opened it, it was wrapped SO cute with a hand writing note from Amber on my paking slip! :)
Cant wait to order more!!
Thank you
Calli
Amazing Blanket and super fast shipping!!
I love these blankets!! We have every size and the adult is my favorite!! Super fast shipping and amazing quality.